Last Update - October 17, 2016
Next Singspiration is Sunday Evening, October 30th
Sunday evening, October 30th, at 6 p.m. is our next Singspiration, a special time for praising God with songs, readings, and testimonies. All are welcome to participate, sharing what God has placed in their hearts.

Christmas Baskets
The item to donate for Christmas baskets for the week of 16th is girls' toys. The item for the week of October 23rd will be cleaning supplies.

Church News (as submitted to the Progress Examiner)
Wednesday night Sam Pemberton gave announcements and received prayer requests. Tony George led prayer. Billy Mesarosh led several worship songs. Greg Isom led the Bible study in Acts 20:1-38. Billy led a closing song, "The Steadfast Love of the Lord," and Bob Bex dismissed in prayer.

Sunday morning Steve Lee gave announcements, led singing, and asked for prayer requests. Bill Luttrell led prayer. Communion was served. Steve and Mendy Lee sang "He Washed My Eyes with Tears." Time was taken to greet one another as the children dismissed to their classes. Pastor Jerry Allen delivered the message, "Begotten Unto a Lively Hope," from I Peter 1:1-3. Steve led a song for the altar call, and Denny Kirk dismissed the service with prayer. Attendance was 67.
Sunday evening began with an anointing service. Afterward Sam Pemberton gave announcements, led a hymn, and took prayer requests. Andy Pemberton led prayer. Communion was served for those unable to attend Sunday morning. Billy Mesarosh and Jessy Blackerby led the congregation in several praise songs. Greg Isom brought the message from Revelation 3:14-22, the letter to the church in Laodicea. Billy and Jessy led a closing song, and Tony George dismissed in prayer.

Butter Knives Wanted for Milwaukee Trails Fundraiser Art Project
Loretta Jean Eaton is looking for butter knives. If you have any you are willing to part with, please bring them to her at church. They are being used for an art project for "Howl at the Moon," an arts, crafts and music fundraiser event for the Milwaukee Trail in Bedford.
If you would like to purchase one of these cool guys write your name on the list in the foyer.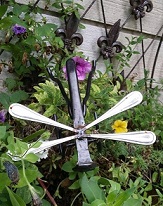 Allen Hamilton makes them out of the spikes from the Milwaukee Railroad!
https://www.facebook.com/MilwaukeeTrailway
Learn more about the Milwaukee Road Transportation Trailway at http://www.indianatrails.com/book/export/html/2954

Church Nursery Sign-up Sheets
There is a sign-up sheet on the bulletin board in the foyer for anyone willing to volunteer to help in the church nursery.
A second sign-up sheet is for those wanting their children to be watched in the nursery during church services. If you want your child or children to be in the nursery, please sign this sheet. Thank you.

Next Men's Breakfast is Saturday, November 12th
The next Men's Breakfast is Saturday, November 12th at 8:00 a.m. in the fellowship area. All of the men of the church are encouraged to attend.

Bride of Christ Ladies Facebook Page
Ladies of the Bride of Christ Fellowship, you can stay connected on Facebook.
Bride of Christ Ladies Facebook Page

Guidelines for Church Service Cancellations
Church Service cancellations due to adverse weather conditions or other unexpected reasons will be submitted to:
WQRK 105.5 FM
WBIW 1340 AM
The information may also be available on http://www.superoldies.net.
In addition, we will attempt to get it posted to this web page.